Bluehost. Malware. SiteLock.
Bluehost.
I've been blogging for a long time now and Bluehost has been my host since 2010.
Bluehost were reliable, efficient and on top of that, they had excellent customer service. I had no complaints and was recommending them to everyone who mentioned anything about web hosting.
Bluehost hosted my personal blog, a music blog and a football blog which had a huge following. Quick shoutout to all my loyal readers! Thank you.
Despite not blogging regularly I still went ahead and renewed my hosting account with Bluehost and extended my domain registrations.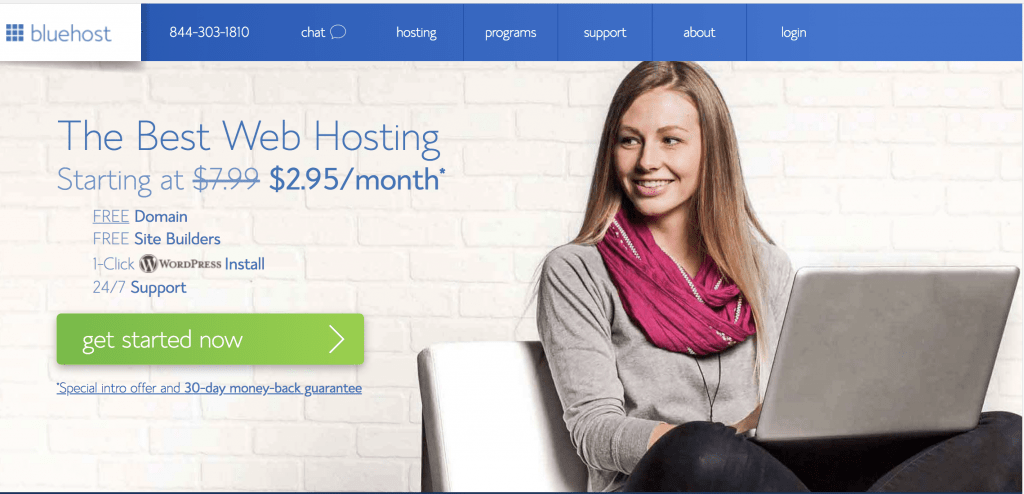 HACKED.
A couple of months later, I found out that one of my sites had been hacked. It just showed a blank white page with the word "hacked." on it. I clearly remember taking a screenshot but I can't find that now.
Immediately contacted Bluehost for help. Live chat. They deactivated my site and sent me the following e-mail..
DEACTIVATED.
Your account has been deactivated due to the detection of malware. The infected files need to be cleaned or replaced with clean copies from your backups before your account can be reactivated.
To thoroughly secure your account, please review the following:
* Remove unfamiliar or unused files, and repair files that have been modified.
* Update all scripts, programs, plugins, and themes to the latest version.
* Research the scripts, programs, plugins, and themes you are using and remove any with known, unresolved security vulnerabilities.
* Update the passwords for your hosting login, FTP accounts, and all scripts/programs you are using. If you need assistance creating secure passwords, please refer to this knowledge base article:
https://my.bluehost.com/hosting/help/418
* Remove unused FTP accounts and all cron jobs.
* Secure the PHP configuration settings in your php.ini file.
* Update the file permissions of your files and folders to prevent unauthorized changes.
* Secure your home computer by using an up-to-date anti-virus program. If youâ•˙re already using one, try another program that scans for different issues.
You may want to consider a security service, such as SiteLock, to scan your website files and alert you if malicious content is found. Some packages will also monitor your account for file changes and actively remove malware if detected. Click here to see the packages we offer:
https://my.bluehost.com/cgi/sitelock
Please remove all malware and thoroughly secure your account before contacting the Terms of Service Department to reactivate your account.
You may be asked to find a new hosting provider if your account is deactivated three times within a 60-day period.
Thank you,
Bluehost Support
MALWARE.
What the bloody hell is going on? What is Malware? Why did Bluehost deactivate my account? Why is Bluehost not helping me clear the Malware? How do I clear this Malware?
Bluehost: We created the malware.txt document in your home directory that contains a list of possibly malicious files for you to inspect. We cannot guarantee it is a complete list, and it may contain false positives — meaning files that look malicious but aren't.
So I tell them I need help clearing the Malware and asked if there was anyone who could guide me through this process?
Bluehost: We have created a malware.txt file in your file manager, please check that file and delete the infected content listed in the malware.txt file and get back to us, we will help you with reactivating your account. You can try to remove the malware content in the files yourself or reach out to Sitelock for assistance.
SITELOCK.
My first instinct was to sign up for SiteLock and let them fix my site. After all they were recommended by Bluehost as their in-house security system.

Looked at SiteLock and I was shocked at how expensive it was. It wasn't user-friendly and would have cost me thousands of dollars to clear all the "malware".
So I searched online for alternative ways to remove the malware. Spent the next 3 days trying to find a solution.
Found cWatch Comodo and it was everything I needed, a free malware removal service!
Dear Customer,
Manual malware scan and removal has been completed successfully, Your Domain is safe now, Kindly find the attachment. Thanks for your patience.
Regards,
Cwatch Web Team
Contacted Bluehost to scan and reactivate my site since all the malware has been removed. Bluehost runs the scan and guess what, there is still malware on my site. Their support team created another malware.txt file and told me to contact them again once it's cleared. I tell Bluehost again that I've already scanned and cleared everything. Bluehost mentions that the malware could have spread since the last malware.txt file was created.
Dear Cwatch Team,
Please see attached report created by my hosting provider. Malware still exists on my sites and my account is still deactivated. Please assist. Thank you.
Regards,
Desmond
Cwatch was helpful, they called and explained exactly what they were doing. Unfortunately, I already used the 100% free scan and had to pay them for another scan.
I argued that the free scan was unsuccessful because my account is still deactivated. Also, why would I sign up for their security services if they couldn't fix the problem on hand? Then their sales representative informs me that they need permission from higher management to perform another free scan and removal.
It was this moment when I realised that SiteLock was the only solution! Nothing else would work and only SiteLock could unlock my account. According to the malware.txt file Bluehost provided, the malware had spread to every other domain and it would cost me a bomb to have it all cleaned. SiteLock charges you a fee for each site they protect and their unlimited site deal was just asking for too much from me.
No files equal no malware right. So I deleted everything. Lost 10 years of content but saved thousands of dollars. All that content with no backup, I only had myself to blame for that.
Here is my last chat with Bluehost Support..
Me: Hi, I need help getting my account activated again.
Bluehost: Your account has been deactivated due to malware.
Me: Yes, I'm having trouble clearing the malware. There are some domains that are no longer in use. Is there a way I can just delete them?
Bluehost: We have created a malware.txt file in your File Manager, please check that file and delete the infected content listed and get back to us, We will help you with reactivating your account.
Me: How do I delete the infected files?
Bluehost: You can try remove the malware content in the files yourself or reach out to SiteLock for assistance.
That was it for me. I had enough of Bluehost, Malware and SiteLock. I deleted every single file in my File Manager before replying the chat.
Me: Okay, I did it myself. I'd like to run the scan now.
Bluehost: Yes sure. We are scanning your account. Please hold for 3-6 minutes.
Me: Okay.
Bluehost: Your patience is really appreciated. We are still scanning. Please hold for 3-6 more minutes.
Me: How come so long? There is nothing there to scan!
Bluehost: Your account is reactivated now. I'm sorry for the hold time.
I felt like Bluehost could have done more to help instead of deactivating my account and forcing me to pay for SiteLock.
$$$.
Is SiteLock worth it? <<< Click and read.
I do not recommend that you sign up with SiteLock. The conclusion I draw from them is you pay a monthly bill, your website gets hacked, and then you have to pay more money to fix the problems. Sure, they do work but at the end of the day, the prices to fix problems don't seem to be worth it. Be careful if you are with any EIG owned web hosts because they are partnered with SiteLock and tend to really push this service on to their customers.
Do your own research. Check multiple sources. Google and compare prices for the services you need before signing up.
Also be sure to check out the hashtags for example: #bluehost #malware #sitelock on Twitter and other social media for honest reviews from other users.